Unveiling Innovation: The iPhone 14
Welcome to the future of smartphones! Introducing the iPhone 14, a technological marvel designed to revolutionize your digital life. Discover the remarkable features that set this phone apart from the rest.
Unmatched Connectivity
The iPhone 14 boasts a powerful network setup, supporting GSM, CDMA, HSPA, EVDO, LTE, and cutting-edge 5G technology. Stay connected like never before, whether you're streaming, gaming, or working on the go. With faster speeds and lower latency, the world is at your fingertips.
Cutting-Edge Display
Experience visuals like never before on the Super Retina XDR OLED display with HDR10 and Dolby Vision. With 800 nits of brightness (HBM) and a peak of 1200 nits, your photos, videos, and apps come to life with stunning clarity and vivid colors. The Ceramic Shield glass ensures durability, protecting your screen from everyday wear and tear.
Performance Beyond Limits
Powered by iOS 16 (upgradable to iOS 17) and the Apple A15 Bionic chipset, the iPhone 14 delivers unrivaled performance. Its Hexa-core CPU and 5-core Apple GPU handle multitasking and gaming with ease. With options for 128GB, 256GB, or 512GB of storage, you'll never run out of space for your digital life.
Capturing Moments in Perfection
Dual Main Cameras
Unleash your inner photographer with the iPhone 14's dual main cameras. The 12 MP wide lens and 12 MP ultrawide lens capture every detail with precision. From stunning landscapes to low-light portraits, you'll be amazed at the quality of your photos. Features like Dual-LED dual-tone flash and sensor-shift OIS ensure your shots are always on point.
Selfie Excellence
Selfie enthusiasts, rejoice! The 12 MP front camera with f/1.9 aperture and PDAF guarantees Instagram-worthy self-portraits. With the added SL 3D depth sensor, you can enjoy the magic of Face ID and experience portrait mode like never before.
A Feast for Your Ears
Immerse yourself in rich, stereo sound with the iPhone 14's loudspeaker. Whether you're watching movies, gaming, or enjoying music, the audio quality will leave you captivated. While the 3.5mm jack may be a thing of the past, the iPhone 14 offers a wireless audio experience like no other.
Your Digital Companion
Stay connected and secure with Face ID, accelerometer, gyro, proximity sensor, compass, and barometer. The iPhone 14 also supports Ultra Wideband (UWB) and even offers emergency SOS via satellite. Your safety and convenience are top priorities.
Unleash the Power
The Li-Ion 3279 mAh battery keeps you powered up all day. With lightning-fast wired charging (50% in just 30 minutes), 15W wireless charging with MagSafe, and 7.5W wireless charging with Qi, you'll never have to worry about running out of battery.
Choose Your Style
With color options like Midnight, Purple, Starlight, Blue, Red, and Yellow, the iPhone 14 lets you express your personality. Find the perfect shade that suits your style.
Our Take: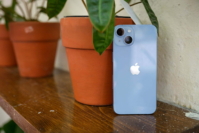 A Tech Marvel
The iPhone 14 is truly a technological marvel. With lightning-fast 5G connectivity, streaming and video calls are a breeze. The Super Retina XDR OLED display is visually stunning, and its durability with Ceramic Shield glass is reassuring. Performance-wise, it's outstanding. The Apple A15 Bionic chip handles all tasks effortlessly, from gaming to multitasking. The camera setup is exceptional, capturing fantastic photos, especially in low light. Selfies are top-notch, thanks to the 12 MP front camera and Face ID. Battery life is impressive, and the fast charging is a game-changer. Plus, the color options allow you to personalize your style. In summary, the iPhone 14 is a game-changer. It's a technological marvel worth every penny, offering exceptional performance, stunning visuals, and a top-notch camera setup. If you want the best, this is it!
PROS
Lightning-Fast 5G: Enjoy blazing-fast internet speeds for seamless browsing and streaming
Super Retina XDR Display: Stunning visuals with high brightness and Ceramic Shield glass for durability
Powerful Performance: Apple A15 Bionic chip handles all tasks effortlessly, from gaming to multitasking
Exceptional Cameras: Dual main cameras capture outstanding photos, even in low light, and selfie camera with Face ID
Impressive Battery Life: Long-lasting battery with fast charging options, including MagSafe and Qi
Color Variety: Express your style with a range of attractive color options.
CONS
No 3.5mm Jack: Missing headphone jack may inconvenience some users
High Price: The iPhone 14 comes at a premium cost compared to some competitors
No Expandable Storage: Limited to internal storage options; no external memory card slot
Gallery:
Where to buy?
Last update was on: 2 December 2023 18:25
Check Price History & Get Alerts:
This product is available at (128 GB) - Midnight, Amazon.com.
At amazon.com you can purchase DJI Phantom 4 PRO Professional Drone, Hobby RC Quadcopter & Multirotor, White, CP.PT.000488 for only $1,489.00 , which is 98% less than the cost in (128 GB) - Midnight (Rs. 61,999).
The lowest price of Apple iPhone 14 (128 GB) - Midnight was obtained on 2 December 2023 18:21.
Price History for Apple iPhone 14 (128 GB) - Midnight
Statistics
| | | |
| --- | --- | --- |
| Current Price | Rs. 61,999 | 2 December 2023 |
| Highest Price | Rs. 67,999 | 7 September 2023 |
| Lowest Price | Rs. 61,999 | 17 October 2023 |
Since 3 September 2023
Last price changes
| | |
| --- | --- |
| Rs. 61,999 | 17 October 2023 |
| Rs. 62,999 | 3 October 2023 |
| Rs. 63,999 | 1 October 2023 |
| Rs. 62,999 | 24 September 2023 |
| Rs. 67,999 | 7 September 2023 |
Create Your Free Price Drop Alert!
Set Alert for Apple iPhone 14 (128 GB) - Midnight - Rs. 61,999
Specification:
Apple iPhone 14
Range

Hover Accuracy Range:- Vertical: +/-0.1 m (with Vision Positioning)+/-0.5 m (with GPS Positioning)- Horizontal: +/-0.3 m (with Vision Positioning)+/-1.5 m (with GPS Positioning)

Maximum Flight Time (minutes)

30

Controler

Remote ControllerOperating Frequency: 2.400 – 2.483 GHz and 5.725 – 5.825 GHzMax Transmission Distance:- 2.400 – 2.483 GHz (Unobstructed, free of interference)FCC: 4.3 mi (7 km)CE: 2.2 mi (3.5 km)SRRC: 2.5 mi (4 km)- 5.725 – 5.825 GHz (Unobstructed, free of interference)FCC: 4.3 mi (7 km)CE: 1.2 mi (2 km)SRRC: 3.1 mi (5 km)Operating Temperature Range: 32 degree to 104 degree F (0 degree to 40 degree C)Battery: 6000 mAh LiPo 2STransmitter Power (EIRP):- 2.400 – 2.483 GHzFCC: 26 dBmCE: 17 dBmSRRC: 20 dBm- 5.725 – 5.825 GHzFCC: 28 dBmCE: 14 dBmSRRC: 20 dBmOperating Current/Voltage: 1.2 [email protected] VVideo Output Port:- GL300E: HDMI- GL300F: USBMobile Device Holder:- GL300E: Built-in display device (5.5 inch screen, 1920×1080, 1000 cd/m2, Android system, 4 GB RAM+16 GB ROM)- GL300F: Tablets and smart phones

Software/App

Mobile App: DJI GO 4Live View Working Frequency: 2.4 GHz ISM, 5.8 GHz ISMLive View Quality: 720P @ 30fpsLatency: – Phantom 4 Pro: 220 ms (depending on conditions and mobile device)- Phantom 4 Pro +: 160 – 180 msRequired Operating Systems:- iOS 9.0 or later- Android 4.4.0 or laterRecommended Devices:- iOS: iPhone 5s, iPhone SE, iPhone 6, iPhone 6 Plus, iPhone 6s, iPhone 6s Plus, iPhone 7, iPhone 7 Plus, iPad Air, iPad Air Wi-Fi + Cellular, iPad mini 2, iPad mini 2 Wi-Fi + Cellular, iPad Air 2, iPad Air 2 Wi-Fi + Cellular, iPad mini 3, iPad mini 3 Wi-Fi + Cellular, iPad mini 4 and iPad mini 4 Wi-Fi + Cellular. – This app is optimized for iPhone 7, iPhone 7 Plus.- Android: Samsung tabs 705c, Samsung S6, Samsung S5, Samsung NOTE4, Samsung NOTE3, Google Nexus 6p, Nexus 9, Google Nexus 7 II, Ascend Mate7, Huawei P8 Max, Huawei Mate 8, LG V20, Nubia Z7 mini, Sony Xperia Z3, MI 3, MI PAD, Smartisan T1.*Support for additional devices available as testing and development continues.

Other Specification

AircraftDiagonal Size (Propellers Excluded): 350 mmMax Tilt Angle:- S-mode: 42 degree – A-mode: 35 degree – P-mode: 25 degree Max Angular Speed:- S-mode: 250 degree /s- A-mode: 150 degree /sMax Service Ceiling Above Sea Level: 19685 feet (6000 m)Operating Temperature Range: 32 degree to 104 degree F (0 degree to 40 degree C)Satellite Positioning Systems: GPS/GLONASSVision SystemVision System: Forward Vision SystemBackward Vision SystemDownward Vision SystemVelocity Range: =31 mph (50 kph) at 6.6 ft (2 m) above groundAltitude Range: 0 – 33 feet (0 – 10 m)Operating Range: 0 – 33 feet (0 – 10 m)Obstacle Sensory Range: 2 – 98 feet (0.7 – 30 m)FOV: Forward: 60 degree (Horizontal), +/-27 degree (Vertical)Backward: 60 degree (Horizontal), +/-27 degree (Vertical)Downward: 70 degree (Front and Rear), 50 degree (Left and Right)Measuring Frequency: Forward: 10 HzBackward: 10 HzDownward: 20 HzOperating Environment: Surface with clear pattern and adequate lighting (lux>15)GimbalStabilization: 3-axis (pitch, roll, yaw)Controllable Range: Pitch: -90 degree to +30 degree Max Controllable Angular Speed: Pitch: 90 degree /sAngular Control Accuracy: +/-0.02 degree Infrared Sensing SystemObstacle Sensory Range: 0.6 – 23 feet (0.2 – 7 m)FOV: 70 degree (Horizontal), +/-10 degree (Vertical)Measuring Frequency: 10 HzOperating Environment: Surface with diffuse reflection material, and reflectivity > 8% (such as wall, trees, humans, etc.)

Battery

Intelligent Flight BatteryCapacity: 5870 mAhVoltage: 15.2 VEnergy: 89.2 WhNet Weight: 468 gCharging Temperature Range: 41 degree to 104 degree F (5 degree to 40 degree C)Max Charging Power: 100 W

Safety Features

Return to Home, 5 side obsticle avoidance, 100% accuracy in landing

Height (cm)

55

Width (cm)

20

Product Depth (cm)

10

Product Width (cm)

19

Speed

Max Ascent Speed:

– S-mode: 6 m/s
– P-mode: 5 m/s

Max Descent Speed:

– S-mode: 4 m/s
– P-mode: 3 m/s

Max Speed:

– S-mode: 45 mph (72 kph)
– A-mode: 36 mph (58 kph)
– P-mode: 31 mph (50 kph)

GPS

Yes

App Enabled

Yes

Power Supply

ChargerVoltage: 17.4 V
Rated Power: 100 W

Battery Type

LiPo 4S

Weight

Weight (Battery & Propellers Included): 1388 g

Camera Lens

FOV 84 degree 8.8 mm/24 mm (35 mm format equivalent) f/2.8 – f/11 auto focus at 1 m – 8

Camera Sensor

Sensor:
– 1" CMOS
– Effective pixels: 20M